Infrastructure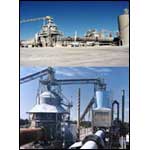 White 'N' White Minerals (P) Ltd.
is a decade old organization in India, engaged in the manufacturing of Lime Based Products with an excellent track record in Domestic as well as International Market.
Area of Expertise
Quick Lime
Hydrated Lime
Calcined Dolomite
Production Facilities :
The organization boasts of a sophisticated equipment and technology that combine to provide maximum flexibility and comprehensive manufacturing capabilities. The Manufacturing Plant is situated in the out-skirts of Jodhpur (Rajasthan), at Gotan Road, Borunda. The plant is approved By pollution Control Board and has won a number of awards like Customer Honour award by SBBJ and has also received Certificate for supplying 300Mt Lime per day from Essar Steels Ltd.